If there is one thing I have learned during my months of blogging, it is the importance of support!  And that is my joy today to share with you some of my favorite link-ups, blog hops and memes.  After all, it is these very connection points that have allowed me to make the great friends that I have made!  And it has helped me to meet you lovely people.
Without further adieu:
1.  Top Ten Tuesday!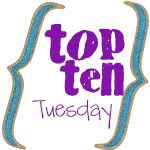 After all, this is the very link-up/meme that I wrote this post for.  A wealth of information can be found at Oh Amanda's site on any given Tuesday.  You need to know something, check here for some help.
2.  Say Hi Sunday Blog Hop

Shameless plug for my friends, Three Ps in a Pod, Carrie with Children and my blog hop on Sunday.  You can come and link up with this No Rules Hop and meet some great followers through it.
3.  Relax and Surf Sunday Blog Hop
Ran by The Life of Rylie, Shibley Smiles and a featured blogger, this is a fun no rules hop to join up with as well.  I have meet a lot of great friends from here!
4.  Wordless Wednesday
So, just about everyone has a Wordless Wednesday link up you can join.  But my favorites are held at Carrie with Children, Crazy about My BayBah, Dear Crissy and The Life of Rylie
5.  Tell Us Something Good
This is a new meme that just started last week as a place where you can come and share good news!  A great place to go and get a good pick me up.  Show some support to The Life of Rylie and Angelica's Awesome Adventures and link up this week.
6.  Just 'Cuz Blog Hop
Another shameless plug for the blog hop I run weekly with my cousin, My Organic Homemaking.  It goes live on Wednesday at 8pm CST and runs all day Thursday.  Be sure to link up with us this Wednesday.
7.  Giveaway Linkys
Two of my favorite link ups for giveaways are at Family and Life in Las Vegas and Dear Crissy.  They have been very helpful in getting the word out on my giveaways.  Emily at Family and Life in LV's link up goes life on Saturday night and Crissy's goes live on Sunday.
8.  Follow Me Chickadee
I link up with Sippy Cup Mom and her fellow co-hosts for a great no rules hop that takes place on Tuesday!  I love their cute little button that they have for you to share as well.
9.  Nice to Tweet You Thursday
A great twitter hop ran by Give It To Me Tara and Just Married with Coupons, I have truly increased my twitter following through this hop.  Link up with us.
10.  Tell me.  What are some of your favorites?